Amalfi.
Medieval, romantic, unforgettable.
The ancient maritime republic of Amalfi, a strip of land suspended between the cobalt-coloured sea and the mountain where vines and lemon grow.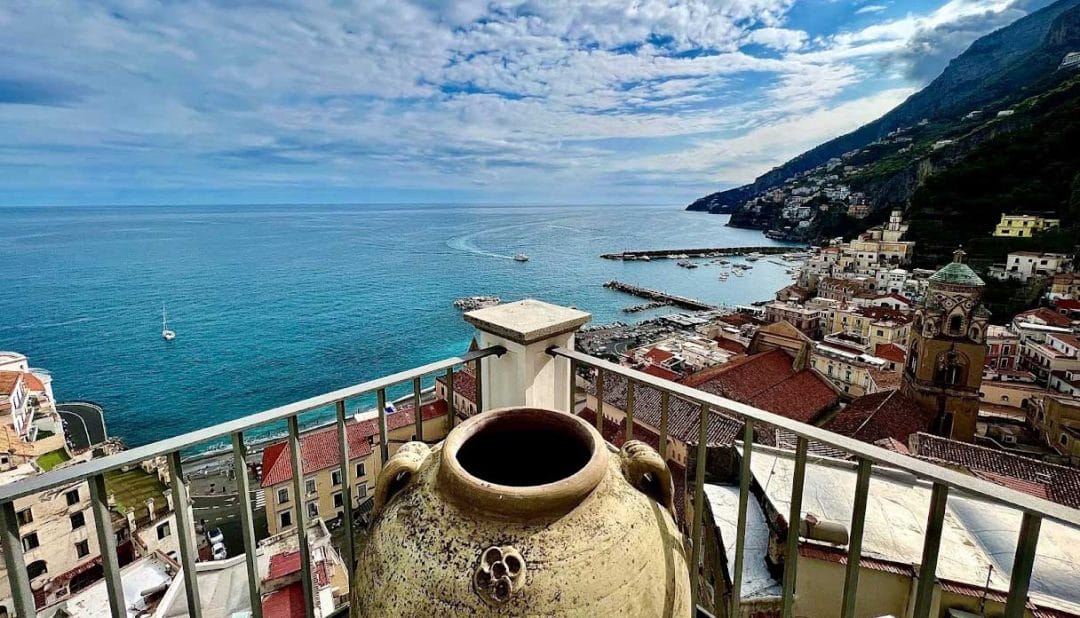 View of Amalfi from Palazzo Casanova
The History
Amalfi was the oldest maritime republic. Founded by roman settlers in the 4th century A.D., they were joined by some sailors shipwrecked in the gulf of Salerno on their way to Constantinople. It quickly became a seaside town inhabited by brave people who made their living by fishing , as the town was located in an inaccessible place where no economic activity could be carried out.
At the beginning of the year 1000 Amalfi was the largest commercial emporium in the Tyrrhenian sea. The Amalfitans are credited with the invention of the compass and the drafting of the "tavole amalfitane" (Amalfi tables), a code of maritime commercial law which later inspired all maritime codes of the middle age.
Today Amalfi is a wonderful tourist resort rich in history, full of wonderful natural spots as well as world-renowned traditional food.It has been declared a national heritage site by Unesco.
Amalfi center, which is only 300 meters away from Palazzo Casanova, is the ideal place to test local dishes, go shopping and admire the beauty that ancient splendor of the maritime republic has left us.
The first place to visit is Duomo Square with the fountain dedicated to S. Andrew in the middle. Opposite the fountain we can admire the immense staircase leaving up to the majestic arab-sicilian Cathedral. From there we can access the "Chiostro del Paradiso".
leaving the Cathedral, we head towards Municipio Square where we will find a 16th century palace, formerly a monastery and now a town hall. Inside, ancient Amalfi coins and the customs you used for the historical regatta are on display. In addition to visiting the museum and the ancient paper mills, it will be unforgettable to take a walk along the seafront to the harbor at sunset and to enjoy the gorgeous panorama.
Nearby you can also reach
Atrani
Nearby you can also reach
Atrani is the smallest municipality in southern Italy, where visitors will enjoy a scenery resembling a Nativity scene. It is close to Amalfi that can be
easily reached on foot
through alleys, stairways among houses clinging to the rocks, creating an incomparable atmosphere, enhanced by coloured lights in the evening. Atrani has retained its medieval character and is dotted with small stairways called "scalinatelle" and houses with covered streets and small gardens. It is situated on a rock overlooking the sea at the foot of the "valle del dragone".
This small center, really striking, is made up of equipped beaches, bars, restaurants and souvenir shops.